Friday, 12 August 2016 02:10
Dear Friends,
It has been a most eventful summer, to say the least. We arrived in the US in the middle of June to take care of business at home. We had medical check-ups, and we have both been blessed with good reports. We are so thankful for the Lord's mercies which allow us to continue our missionary work in Ukraine and other places.
Shortly after our arrival we were shocked at the most unexpected death of my long-time friend and co-worker, Dick Mills. Dick and I were friends for 50 years and we feel his loss tremendously. We take comfort in knowing that he is now in that place of no more tears, no more pain, no more death, and that one day we will be reunited with our beloved brother.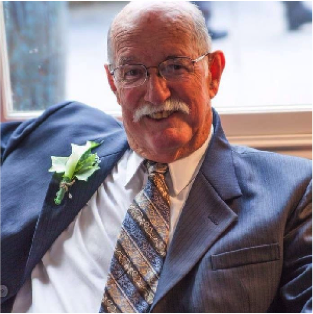 Many of you knew him or knew of him through us. He made several trips with us as we traveled around the country speaking in churches. We even sang trios in quite a few places. Dick was a large part of our ministry from the very beginning.
He served on the board of directors of James F. Myers Ministries since its inception. He was our treasurer and took care of all our financial affairs for more than 20 years. He is the one who sent out receipts to contributors and also sent out our newsletters. He worked tirelessly, faithfully, and joyfully all that time. He will be sorely missed. Surely, he will be greatly rewarded for this service to the Lord.
The Lord has made provision for us to carry on in spite of our loss, and has provided a replacement for us. Her name is Catherine Yeamans. She will be taking care of the books for us now. We have a new mailing address. Please address your correspondence to:
James F. Myers Ministries
2828 W Holcombe Blvd. Unit N
Houston, TX 77025
Drew Smith, another faithful and gracious friend has agreed to take on the task of mailing out our newsletters. They will be coming to you from this e-mail address: This email address is being protected from spambots. You need JavaScript enabled to view it.
If you would prefer not to receive e-mails from us in the future, please write to the above address and we will remove you from the list.
We have websites that you can visit: jfmministries.org and wgbckiev.com.ua and we have a Youtube channel if you want to watch the classes from the Bible College or lessons from the church.
Another big blow came to us this week. Our college was broken into this week and the thieves stole our safe, which contained a substantial sum of money, plus our financial records, and the documents related to ownership of the college property. We are praying that, at the very least, we will recover the documents, if not everything. We are upset about this, but recognize that the Lord is in control and that all things are within His plan for us. So we are focused on continuing the ministry in spite of the circumstances.
There is good news also. Word of God Church in Kiev has been evangelizing in the park near the church every Sunday, and this is bearing fruit. We have several new people attending church, rejoicing in the grace of God and the teaching of the Word. In addition to that we are praising God that this coming school year we will have the largest enrollment of students we have ever had at Word of God Bible College. "Delight yourself in the Lord and He will give you the desire of your heart." Our heart has been the training of people to do the work of the ministry, and the Lord has been pleased to bless that.
Phyllis and I traveled in the southeastern part of the US this summer, speaking in many churches around Texas, then going to Florida, Georgia, Alabama, and Tennessee. The trip has been so wonderful as we spoke in churches, renewing old friendships and making quite a few new ones along the way. We will return to Ukraine on the 30th of August to begin our 24th year on the mission field.
We thank each of you for your interest and participation in our ministry.
By grace alone,
Jim and Phyllis
Monday, 20 June 2016 16:07
Today we were at Bible Church of the Lakes at Horseshoe Bay, Texas. Fred Bates is pastor there—he's 86 years old and still cranking it out. I hope I can still do it when I am so old. Maybe the moustache will do it.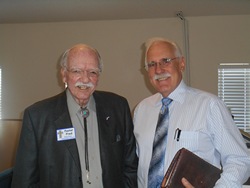 Tuesday, 14 June 2016 16:52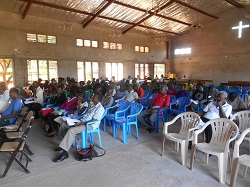 What an amazing year this has been. In addition to our work in Kiev, I also taught seminary courses in six other cities throughout Ukraine. Phyllis and I were able to return to Brazil and Zambia to teach conferences. The response to the Bible teaching is always gratifying. What was really exciting was to hear about the new president of Zambia, Edgar Lungu, who has taken a strong stand for Christianity. He has weekly worship services at the Statehouse and daily prayer meetings. In a day when Christians are under attack all over the world, it is a blessing to see someone in high office not ashamed of the gospel of Jesus Christ. Please add him to your prayer list.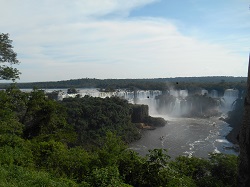 In Brazil we taught in four different cities to enthusiastic audiences over a three-week period. We keep getting more invitations to bring our Bible conferences to more churches. The country of Brazil is in political and financial turmoil and so many people are looking for answers. The only answer, as we know, is Jesus Christ and sound Bible doctrine. One of the cities we went to is home of one of the most beautiful sights we have ever seen, the Iguazu Falls.
On June 1 we were delighted to have two ladies from Brazil visit us for a few days. One of them is an artist, Angela Gomez, who is famous for her paintings done in the Naif style. She thoroughly enjoyed seeing the arts of Ukraine, both on the streets and in the museums. She hopes to be able to do an exhibition of her work in Kiev next year. Angela is a wonderful Christian woman with a strong testimony of faith in Christ.
We finished our school term at Word of God Bible College in Kiev and launched four new graduates into the world of ministry. The graduates are overjoyed to be finished after two grueling years of study, but are looking forward to a new life. Two of them already have ministries to work in and the others are looking for opportunities for service. Please pray for them to have impact in Ukraine as they proclaim the glories of the One who called them out of darkness into His marvelous light.
We are now back in the USA until the end of August. Phyllis and I both had our annual medical checkups and, praise the Lord, had good reports. We have already begun speaking in churches to tell them of the many ministry opportunities the Lord has afforded us. We will be traveling around Texas in June, and then in July we will go to the west coast for a week, and then we will be going to Florida, Georgia, Alabama, and Tennessee before returning to Houston in August.
This is an incredible time to be alive with all of the turmoil in the world. Yet we can can have peace, joy, and stability in the midst of it all because we know that our sovereign Lord is in control of human history. We can't solve the world's problems, but we can be faithful stewards, and that's what we are called to.
Always and only by grace ...