Sunday, 30 April 2017 05:08
April 27, 2017
Dear Friends,
What a joy to serve our Lord Jesus Christ! We have been privileged to teach the Word of God in Ukraine and other places. I taught at Word of God Bible College in December, January, and February. In addition, we have hosted a monthly class for newlyweds and put on a family life conference for Word of God Church.
The church is doing well under Ukrainian leadership. The Bible College is also prospering and the students are being well taught by the men who come from the States to teach two-week modules, as well as the classes now being taught by former students.
At the end of March I flew to Brazil. When I arrived in Rio de Janeiro I was denied entry because I didn't have my visa! I received a 10-year multi-entry visa three years ago, but it is in my old passport, which I forgot to take with me. The federal police in Brazil said that I could go to Venezuela and get a new visa at the consulate in Buenos Aires. This seemed to be a better option than returning to Ukraine to retrieve my old passport. Wrong! In Buenos Aires I found out that it would take at least a week to get a new visa because of a national holiday and the need to provide bank statements and other documents which I didn't have with me. Not wanting to scrub the entire mission, we decided to have Phyllis fly to Argentina and bring my visa. Because of a storm near the coast of Buenos Aires, her plane was diverted to Monte Video, Uruguay. Oh, the adventures of travel. We finally got together and flew to Brazil, three days later than I planned.
The church that was hosting the conference in Miguel Pereira didn't want to give up any teaching time, so I did five days of lessons in two days. It was demanding, but also exciting. The church was full to overflowing for all the sessions. From there we drove to Campinas where we had another five days of teaching, about four hours a day. I have taught there for at least 15 years, and this was the best-attended conference we have had there. We then went to Piracicaba for the weekend, teaching all day Saturday and three services on Sunday. The response to the teaching was so enthusiastic in every place we went, and several other churches have asked us to come to their areas next year. Already we are planning to add a week to our schedule for Brazil in 2018.
Back in Kiev spring has finally arrived. Trees are getting green, forsythias are in bloom and the tulips are open soon. The fruit trees are blossoming and the birds have returned from their winter resorts. The garden is shaping up, too.
The church went out on Sunday to do evangelism in the park. Even though it was a bit chilly, there were lots of people out enjoying the sunshine. We were able to speak to a lot of people, share the gospel, hand out tracts, and invite people to visit our church. Both adults and teens are getting experience in talking to people about the Lord and their need of salvation. That is exciting to watch.
On May 1st, I will leave for Zambia for two weeks, teaching in Livingstone and Lusaka, and then going to Malawi, a small country to the east of Zambia. This will be my first time to go there. The men who are organizing the conference there anticipate that several hundred pastors and church leaders will attend.
A few days after I get back from Africa I will take a 16-hour train ride to the eastern border of Ukraine to a city not far from Lugansk. They have me scheduled to teach 8 hours a day for 3 days. After I finish there we will have our college graduation in Kiev, and then Phyllis and I will return to the US for 10 weeks. We need to get our annual check-ups, visit kids and grandkids, and visit supporting churches. This summer we will be in Texas, New Mexico, Arizona, California, Oregon, Washington, Idaho, Utah, and Colorado. I hope we will be able to connect with many of you.
I am so grateful to the Lord that He has not only opened up all these places for ministry, but that He has also given me the strength and ability to do these things. I know this is His grace. I am also convinced that your prayers play a very large role in all of this. Thank you for all that you do to make it possible for us to carry on this work.
By grace alone,
Jim Myers
Monday, 12 December 2016 20:35
Thanksgiving Day 2016
Dear Friends,
Every day is thanksgiving for us, but we are just overflowing with gratitude this year. Our registration to live in Ukraine expired the first of this month. This was our mistake. Last year it expired at the end of the year, but they changed the date on our registration and we didn't notice it until the last day, and then it was too late to do anything about it. On advice of counsel we remained in the country as illegal aliens until we could obtain a new letter of invitation, which took more than two weeks. We were told that if we left the country before we received that invitation we would not be permitted to re-enter the country for three months, but if we overstayed our registration date they would merely assess a fine.
As is it turned out, when we went out of the country they didn't fine us, which could have been as much as $200 each. We flew to Warsaw to go to the Ukrainian embassy there to receive a new visa. They told us that this would probably take at least five days and perhaps more. But, amazingly, we got it the next day. We flew back to Ukraine this afternoon and are back home. Not only that, but an old friend from Arkansas is living in Warsaw and he hosted us for the time that we were there. All of this is a tremendous display of the grace of God. We are so thankful for all of this. We still have to go through the registration process here, which is more red tape, but we are not complaining but rejoicing in the love of God.
We have been most busy this fall. I have already taught four weeks at the Bible college and will start another two weeks of teaching next week. In addition to that I taught a seminary course at Ron Minton's seminary in Vinnitsa in western Ukraine. I was supposed to teach a 10-hour seminar in southern Ukraine this past week, but that had to be postponed because of the visa situation. I will go there in December.
We started a new Bible study in our home for newly married couples. We had seven couples attend last Saturday. The plan is for this class to meet monthly until next June. The response to this class was so enthusiastic that all the married couples in the church want to be included. We are planning a couple's retreat for December to talk about Christian living in the home. It is truly exciting to see such response to the Word of God.
We are so thankful for the opportunity to serve the Lord in this place. He has blessed us with ministry and the health and strength to carry it out. We also thank our Father for all of you who pray for us and support us so that we can do this work. We are so blessed.
By grace alone,
Jim Myers
Tuesday, 14 June 2016 16:52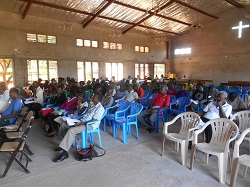 What an amazing year this has been. In addition to our work in Kiev, I also taught seminary courses in six other cities throughout Ukraine. Phyllis and I were able to return to Brazil and Zambia to teach conferences. The response to the Bible teaching is always gratifying. What was really exciting was to hear about the new president of Zambia, Edgar Lungu, who has taken a strong stand for Christianity. He has weekly worship services at the Statehouse and daily prayer meetings. In a day when Christians are under attack all over the world, it is a blessing to see someone in high office not ashamed of the gospel of Jesus Christ. Please add him to your prayer list.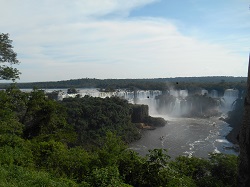 In Brazil we taught in four different cities to enthusiastic audiences over a three-week period. We keep getting more invitations to bring our Bible conferences to more churches. The country of Brazil is in political and financial turmoil and so many people are looking for answers. The only answer, as we know, is Jesus Christ and sound Bible doctrine. One of the cities we went to is home of one of the most beautiful sights we have ever seen, the Iguazu Falls.
On June 1 we were delighted to have two ladies from Brazil visit us for a few days. One of them is an artist, Angela Gomez, who is famous for her paintings done in the Naif style. She thoroughly enjoyed seeing the arts of Ukraine, both on the streets and in the museums. She hopes to be able to do an exhibition of her work in Kiev next year. Angela is a wonderful Christian woman with a strong testimony of faith in Christ.
We finished our school term at Word of God Bible College in Kiev and launched four new graduates into the world of ministry. The graduates are overjoyed to be finished after two grueling years of study, but are looking forward to a new life. Two of them already have ministries to work in and the others are looking for opportunities for service. Please pray for them to have impact in Ukraine as they proclaim the glories of the One who called them out of darkness into His marvelous light.
We are now back in the USA until the end of August. Phyllis and I both had our annual medical checkups and, praise the Lord, had good reports. We have already begun speaking in churches to tell them of the many ministry opportunities the Lord has afforded us. We will be traveling around Texas in June, and then in July we will go to the west coast for a week, and then we will be going to Florida, Georgia, Alabama, and Tennessee before returning to Houston in August.
This is an incredible time to be alive with all of the turmoil in the world. Yet we can can have peace, joy, and stability in the midst of it all because we know that our sovereign Lord is in control of human history. We can't solve the world's problems, but we can be faithful stewards, and that's what we are called to.
Always and only by grace ...