Wednesday, 21 November 2018 18:31
"1 Make a joyful shout to the LORD, all you lands! 2 Serve the LORD with gladness; Come before His presence with singing. 3 Know that the LORD, He is God; It is He who has made us, and not we ourselves; We are His people and the sheep of His pasture. 4 Enter into His gates with thanksgiving, And into His courts with praise. Be thankful to Him, and bless His name. 5 For the LORD is good; His mercy is everlasting, And His truth endures to all generations." (Psalm 100)
What a wonderful privilege to serve our Creator God and our Savior, Jesus Christ. The ministry here has been fruitful and the source of much joy as we see the Word of God at work in the lives of so many people here in Ukraine.
The Word of God Bible College in Kiev continues to be the primary focus of our work here. We have a dozen students this year, and this is one of the finest groups we have ever had. They are serious about learning the Bible and applying it. We anticipate that they will have significant ministries when they have finished their studies with us. Some of them have already been approached about pastoral work when they graduate next spring.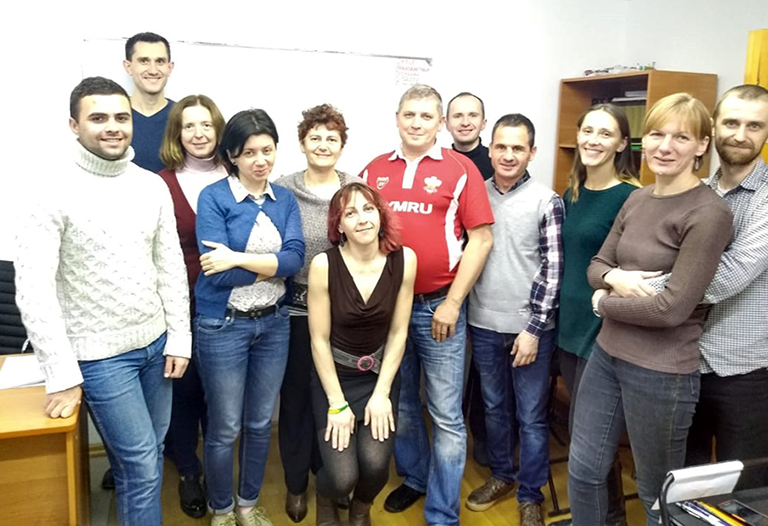 Word of God Bible College 2018–2019
One of the greatest joys is seeing our graduates serving the Lord. In two DM2 conferences that Mark Musser put on in Ukraine we had six former students involved in the teaching. Vasya Munko, one of our first graduates, pastors Grace Bible Church in Lviv. He taught some of the DM2 modules, interpreted for me at a seminary course I taught in Western Ukraine recently, and will teach a course at the college in December. Igor Smolyar, another graduate is currently teaching a course in the pastoral epistles at the college. Sasha and Ira, husband and wife team who graduated last year from the Bible college are heading up the youth group at the church and doing an outstanding job. Zhenya Savchenko, our first college graduate, pastors Living Water Church in the nearby town of Baryshivka. His church hosted one of the recent DM2 conferences. Oleg Lozinski, director of the Bible college, is currently teaching a Bible college course in Armenia.
I have taught more than 80 hours of Bible and theology in the past two months, not including teaching on Sundays at Word of God Church, and pulpit fill in other churches. In December I will teach another 32 hours at the college. We praise the Lord that He has given us grace to be able to carry on such a demanding schedule.
Another cause for celebration: Phyllis and I will be celebrating our Golden Wedding Anniversary on the 30th of November. Fifty years! A wonderful marriage.
We are so grateful for all of you who pray for us and support this ministry. Thank you. May you have a wonderful Thanksgiving Day and blessed Christmas.
By grace alone,
Jim Myers
Below I have also included a letter from Mark Musser who has labored intensively in our ministry here and in other places as well. Please keep him and his family in your prayers.
A GROWING, MATURING MINISTRY IN KIEV
I just returned to Yerevan, Armenia after spending a very fruitful two weeks in Ukraine. It was such a pleasure to arrive in Kiev after a mere 2-½ hour flight, and then be able to get quickly into the ministry there with no jet lag! Since 2004, I have traveled to Kiev almost 30 times from the Pacific Northwest and the long flight does takes its toll on the body – but this fall – it was a hop, skip, and a jump over Turkey and the Black Sea to Ukraine.
Over the years, I have done a lot of teaching at the Word of God Bible College in Kiev, which continues to be blessed with serious students. While the Bible college is not large, usually comprised of 10–15 students, it is an intensive two-year program that even includes Greek and Hebrew studies.
We have several new students this year at the Bible college, one of them used to live in Yerevan!. Several of them are from the Lviv area in western Ukraine and are mature believers. Four of them, two couples are even now being petitioned/recruited to help serve in other churches in the country after they graduate. Please pray for future ministries and good decision-making on the part of Vasya and Larisa Chaplaev and also for Yuri and Nadia Chugai. They have been such a pleasure to teach and their enthusiasm for God's word is very high.
This time around, I taught New Testament Survey, which was well received by the students. I will return in early spring to teach Romans, and then again in late May to teach a survey on Daniel-Revelation. In addition to teaching at the Bible college, I helped lead two DM2 workshops that included a number of different teachers, including Jim Myers, two other Americans and seven Ukrainians – six of whom are graduates from our Bible college. This is a really good sign of how the ministry is maturing in Ukraine as we are starting to see more Ukrainians involved in teaching the Bible. These DM2 workshops are not easy to do, involve many hours of teaching, discipleship, and study for everyone involved. They have proven to be very effective in giving hands-on teaching experience to our former students. This fall, we taught the book of Galatians in Kiev, and then the book of Colossians in Baryshivka.
Andy Stacy, who has taken the pastoral reins of Grace Redeemer Bible Church in Olympia, also joined us with great enthusiasm for the second year in a row as he helped teach both Galatians and Colossians. When it was time for Andy to go back home, he had a hard time leaving as he really enjoyed the Bible workshops and getting to know the people better.
Bob Bolender III, yet another graduate of our Bible college also joined us and helped us teach! Bob is increasingly becoming interested in the pastoral ministry. He is married to Elvira, another graduate of the Bible college in Kiev! Elvira joined in the work by doing some of the translation. Elvira is Russian, but came to Kiev through the ministry of the Ryabchenko's who have been serving as missionaries in Turkey ever since they graduated from the Bible college a number of years ago now. Elvira moved to Turkey and met the Ryabchenko's, who then encouraged her to go to the Bible college.
With such testimonies, when I think of our mission in Kiev, I often think of Acts 19 where the apostle Paul, after being forced to step away from the synagogue because of his strong emphasis upon the law-free grace gospel, started teaching in Ephesus by using what Luke calls "the school of Tyrannus" (Acts 19:9).
Right before I headed back "home" to Yerevan, we had also had an especially fruitful day on the last Sunday I was in Kiev. This included attending the church service in the morning, finishing up DM2 Galatians in the afternoon, and then finishing up with a baptism service in the evening. After Jim introduced the baptism service, Pastor Oleg Lozinsky then baptized three people, after which it was an honor for me to give a short sermon on the significance of baptism from the Scriptures. It was a special day indeed and very reflective of the maturing ministry in Kiev.
But this is not all – Oleg Lozinsky then got on the plane with me to travel to Yerevan as he was invited by Dr. Ron Minton to teach a course at International Baptist Bible College (IBBC). Dr. Minton, who lives in Kharkiv, Ukraine, is president of IBBC and has a number of different college branches in several cities in Ukraine and other international locales. He and Jim often teach at each other's respective colleges. He recently opened up a new college branch in Yerevan, hosted by a church called the Bethlehem Church. When he found out I would be living in Yerevan, he asked me to teach my Christian Family course there. Now, however, it is Oleg's turn.
Oleg, one of our first graduates at the Bible college, is now the pastor of the Word of God Church and also the dean of the Bible college. Oleg has matured in his faith, particularly over the last several years as Jim has given more and more responsibility over to him – which has made him thrive spiritually. It has been a pleasure to attend some of the sessions being taught by Oleg. He is having a great time teaching his course.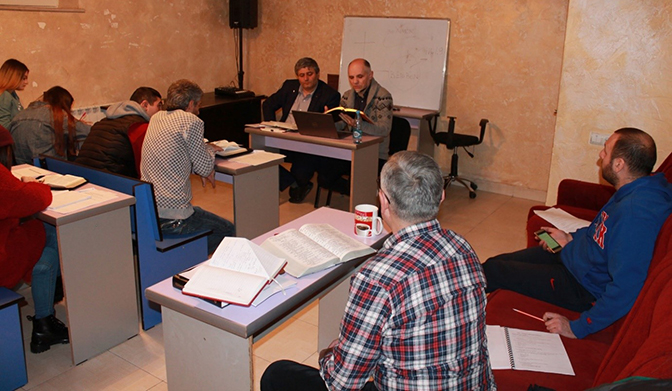 Oleg teaching at IBBC in Armenia
Oleg is receiving lots of good questions as they are hearing grace-orientated truths for the very first time. After classes, some linger and discuss with him many theological, spiritual, and biblical questions – for up to 2 hours!
Mark Musser
Thursday, 24 May 2018 18:32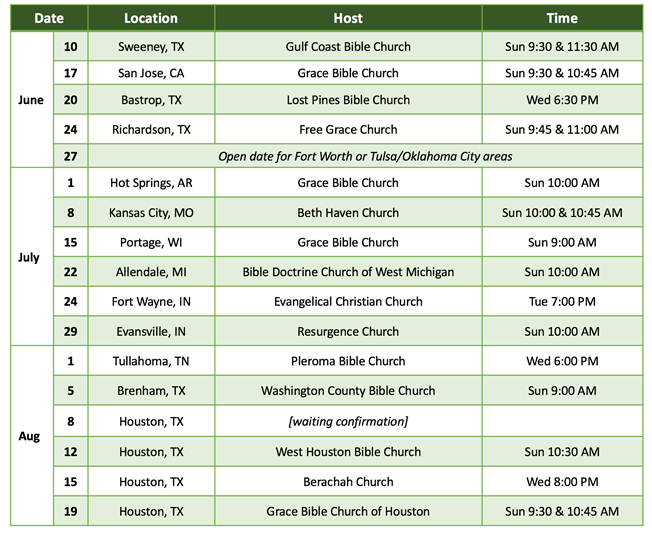 This summer we will be meeting with churches in the Midwest, circling around from Texas, Arkansas, Missouri, Wisconsin, Michigan, Indiana and Tennessee and back to Texas. If you are going to be in our vicinity this summer, we would be pleased if you would come to meet with us.
Please download our 2018 Summer Itinerary for church addresses and contact information.
For scheduling additional appointments, please email me directly: This email address is being protected from spambots. You need JavaScript enabled to view it.
More...
Friday, 12 August 2016 02:10
Dear Friends,
It has been a most eventful summer, to say the least. We arrived in the US in the middle of June to take care of business at home. We had medical check-ups, and we have both been blessed with good reports. We are so thankful for the Lord's mercies which allow us to continue our missionary work in Ukraine and other places.
Shortly after our arrival we were shocked at the most unexpected death of my long-time friend and co-worker, Dick Mills. Dick and I were friends for 50 years and we feel his loss tremendously. We take comfort in knowing that he is now in that place of no more tears, no more pain, no more death, and that one day we will be reunited with our beloved brother.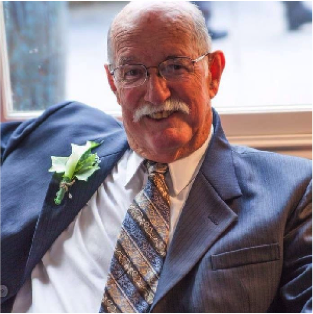 Many of you knew him or knew of him through us. He made several trips with us as we traveled around the country speaking in churches. We even sang trios in quite a few places. Dick was a large part of our ministry from the very beginning.
He served on the board of directors of James F. Myers Ministries since its inception. He was our treasurer and took care of all our financial affairs for more than 20 years. He is the one who sent out receipts to contributors and also sent out our newsletters. He worked tirelessly, faithfully, and joyfully all that time. He will be sorely missed. Surely, he will be greatly rewarded for this service to the Lord.
The Lord has made provision for us to carry on in spite of our loss, and has provided a replacement for us. Her name is Catherine Yeamans. She will be taking care of the books for us now. We have a new mailing address. Please address your correspondence to:
James F. Myers Ministries
2828 W Holcombe Blvd. Unit N
Houston, TX 77025
Drew Smith, another faithful and gracious friend has agreed to take on the task of mailing out our newsletters. They will be coming to you from this e-mail address: This email address is being protected from spambots. You need JavaScript enabled to view it.
If you would prefer not to receive e-mails from us in the future, please write to the above address and we will remove you from the list.
We have websites that you can visit: jfmministries.org and wgbckiev.com.ua and we have a Youtube channel if you want to watch the classes from the Bible College or lessons from the church.
Another big blow came to us this week. Our college was broken into this week and the thieves stole our safe, which contained a substantial sum of money, plus our financial records, and the documents related to ownership of the college property. We are praying that, at the very least, we will recover the documents, if not everything. We are upset about this, but recognize that the Lord is in control and that all things are within His plan for us. So we are focused on continuing the ministry in spite of the circumstances.
There is good news also. Word of God Church in Kiev has been evangelizing in the park near the church every Sunday, and this is bearing fruit. We have several new people attending church, rejoicing in the grace of God and the teaching of the Word. In addition to that we are praising God that this coming school year we will have the largest enrollment of students we have ever had at Word of God Bible College. "Delight yourself in the Lord and He will give you the desire of your heart." Our heart has been the training of people to do the work of the ministry, and the Lord has been pleased to bless that.
Phyllis and I traveled in the southeastern part of the US this summer, speaking in many churches around Texas, then going to Florida, Georgia, Alabama, and Tennessee. The trip has been so wonderful as we spoke in churches, renewing old friendships and making quite a few new ones along the way. We will return to Ukraine on the 30th of August to begin our 24th year on the mission field.
We thank each of you for your interest and participation in our ministry.
By grace alone,
Jim and Phyllis
Monday, 20 June 2016 16:07
Today we were at Bible Church of the Lakes at Horseshoe Bay, Texas. Fred Bates is pastor there—he's 86 years old and still cranking it out. I hope I can still do it when I am so old. Maybe the moustache will do it.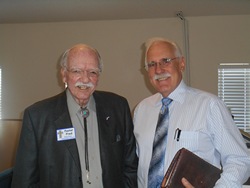 Tuesday, 14 June 2016 16:52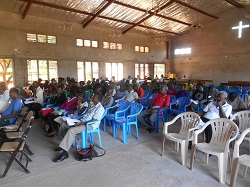 What an amazing year this has been. In addition to our work in Kiev, I also taught seminary courses in six other cities throughout Ukraine. Phyllis and I were able to return to Brazil and Zambia to teach conferences. The response to the Bible teaching is always gratifying. What was really exciting was to hear about the new president of Zambia, Edgar Lungu, who has taken a strong stand for Christianity. He has weekly worship services at the Statehouse and daily prayer meetings. In a day when Christians are under attack all over the world, it is a blessing to see someone in high office not ashamed of the gospel of Jesus Christ. Please add him to your prayer list.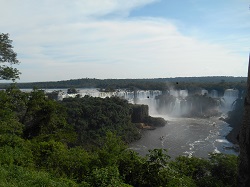 In Brazil we taught in four different cities to enthusiastic audiences over a three-week period. We keep getting more invitations to bring our Bible conferences to more churches. The country of Brazil is in political and financial turmoil and so many people are looking for answers. The only answer, as we know, is Jesus Christ and sound Bible doctrine. One of the cities we went to is home of one of the most beautiful sights we have ever seen, the Iguazu Falls.
On June 1 we were delighted to have two ladies from Brazil visit us for a few days. One of them is an artist, Angela Gomez, who is famous for her paintings done in the Naif style. She thoroughly enjoyed seeing the arts of Ukraine, both on the streets and in the museums. She hopes to be able to do an exhibition of her work in Kiev next year. Angela is a wonderful Christian woman with a strong testimony of faith in Christ.
We finished our school term at Word of God Bible College in Kiev and launched four new graduates into the world of ministry. The graduates are overjoyed to be finished after two grueling years of study, but are looking forward to a new life. Two of them already have ministries to work in and the others are looking for opportunities for service. Please pray for them to have impact in Ukraine as they proclaim the glories of the One who called them out of darkness into His marvelous light.
We are now back in the USA until the end of August. Phyllis and I both had our annual medical checkups and, praise the Lord, had good reports. We have already begun speaking in churches to tell them of the many ministry opportunities the Lord has afforded us. We will be traveling around Texas in June, and then in July we will go to the west coast for a week, and then we will be going to Florida, Georgia, Alabama, and Tennessee before returning to Houston in August.
This is an incredible time to be alive with all of the turmoil in the world. Yet we can can have peace, joy, and stability in the midst of it all because we know that our sovereign Lord is in control of human history. We can't solve the world's problems, but we can be faithful stewards, and that's what we are called to.
Always and only by grace ...