Tuesday, 05 April 2022 03:04
April 4, 2022 News Update
4 April 2022
Dear Brothers and Sisters in Christ,

Oh, how it breaks our hearts to watch the videos of the barbaric butchery of people in Bucha, a city just to the north of Kyiv. It is adjacent to Irpin. This was one of the first cities occupied by the Russians when the war began. There has been extensive destruction of buildings, homes, and infrastructure there. But even worse is the slaughter of hundreds of people and reports of rape of many women and even little girls. Evil without restraints! Hundreds dead, buried in mass graves, unknown but to God.
I thought about inserting a link showing graphic photos of some who were killed, hands tied behind their backs and then executed. But you may have seen videos on the news and you don't need to see more. I had a conversation a number of years ago with the American ambassador to Georgia. He told me that when the Russians left after invading that country in 2008, they raped and pillaged with wanton disregard for the senseless brutality. The pattern repeats itself in Ukraine.

But, the good news is that the Ukrainian forces have driven the Russian forces out of that area. However, the Russians have left many booby traps and land mines, some of which are in playgrounds, entrances to apartment buildings, and even some under dead bodies. So it will take some time to clear the area of danger. We have church members from both Bucha and Irpin who, while themselves are safe, have suffered loss from the bombing.

Word of God Church continues to minister to the congregation. The few who are still in Kyiv met yesterday for a worship service while most of the others were able to join online from safe havens in western Ukraine and from several foreign countries. The Word of God is not bound. We continue to have daily prayer meetings online and weekly Bible studies as well. Below is a photo of the church service, with Pastor Oleg teaching the Word. The man in the foreground is Vova, Oleg's brother. He is with the territorial defense unit and will be deployed to the east this week. Pray for him and our other men who are defending their nation by serving in the military.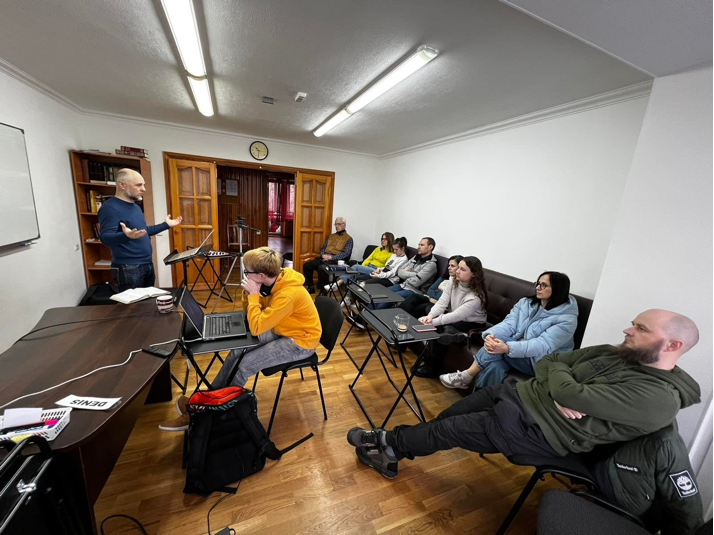 We receive reports from our people in Ukraine and Poland who are using this time as ambassadors for Christ, preaching the gospel and ministering to refugees, demonstrating the love of God and their steadfast faith based on the assurance that comes from knowledge of the Word of God.

The war continues, but let it not become old news and something to be disregarded because it is far away. May it serve as a warning of what may come to our shores in the future. May it spur us to make spiritual preparation now so that we will also be able to persevere in our faith when the time of severe testing comes to us.

God has a purpose for us and His plan is moving forward. Will we fulfill His purpose or will we be casualties in the spiritual conflict? Thank you for praying. Thank you for your notes of encouragement and support.

Psalm 37:35-40,
"35 I have seen the wicked in great power, And spreading himself like a native green tree. 36 Yet he passed away, and behold, he was no more; Indeed I sought him, but he could not be found. 37 Mark the blameless man, and observe the upright; For the future of that man is peace. 38 But the transgressors shall be destroyed together; The future of the wicked shall be cut off. 39 But the salvation of the righteous is from the LORD; He is their strength in the time of trouble. 40 And the LORD shall help them and deliver them; He shall deliver them from the wicked, And save them, Because they trust in Him."

Stand fast,

Jim
Latest from Barb Appel