Friday, 11 March 2022 22:42
March 11, 2022 News Update
11 March 2022
Dear Friends,
The war in Ukraine continues with Russia increasing its attack against many cities, targeting them with long-range cruise and ballistic missile. They are targeting airports and power generating stations, but the missiles seem to lack accuracy and frequently hit civilians. Their activity around Kyiv is escalating. Now the Russians are targeting cities in western Ukraine which had been quite safe until now. Many who had fled from Kyiv and other cities in the east had taken refuge in those cities.
I just received a note from Denis Shamrov, one of our students in Word of God College. Denis is perhaps the best student I have ever had. He is smart and he is diligent. He has an intense desire to learn the Word of God, and he is also a very effective communicator. He and his wife, Alvina, and their son Luka have fled to Poland. They are Belarussian citizens. He does not want to return to Belarus because it is likely that he would be drafted into the army and then required to fight against Ukraine. Here is the note he sent this morning:
Mr Myers. We are grateful for the help you have given us. May God richly bless you for this. Thank you for giving us so much in these two years. For teaching us how to trust God and rely on Him in everything. It helps us a lot at this time. Thank you for giving me assignments to memorize Bible verses. These verses give us strength in difficult times because we remember them. Please pray that the Lord will help us to legally obtain documents here, since we do not want to return to Belarus. Military mobilization is possible there. And there, many justify Russia, and we are against it. so if you refuse, you may face a prison. Therefore, it is dangerous for us to return to Belarus now. And we want to formalize our citizenship where possible. Pray that we will have the opportunity to serve God where we are. We love you, we pray for you. We are very happy that you are safe. Greetings from Alvina and Luka.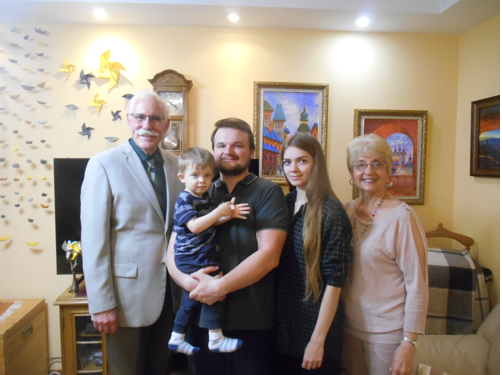 Pray for Denis and his family now without a home, living in a foreign country. He needs to get legal status in that country (or some other country) so that he can find work and settle into a normal lifestyle. We have been able to establish contact with him and send him financial aid. He is a fine young man and I am confident that he will be a great servant of the Lord. I am eager to see how the Lord will use him.
By grace alone,
Jim
Latest from Barb Appel